Commercial Metal Roofing
When it comes to commercial roofing a metal roofing material that is long lasting makes good sense. It offers the best value for the investment when installed correctly. You have come to the right place because our installers are the best in the state. A.M. Burney Exteriors, Inc. has three different types of metal roofs, each with their own benefits. We show you which steel roofing material fits you building and targets your needs and your budget. Then, we install it perfectly
with minimal interference to your daily business traffic.
We manage the installment of both small and large projects. Our steel roof installation crews understand the nuances of any architectural feature. They understand the metal product they are working with and follow correct install applications on the three types metal roofing products we offer.
Today, metal roofing products come in a wide range of colors, textures, and styles. From the sleek classic lines of traditional standing seam steel, to beautifully textured stone coated steel panels. Our metal roofing options will improve the curb appeal of any building.
What types of metal roofs are there for Commercial use?
There are three types of metal roof systems that you can choose from. Each has their own unique look and appeal, but all beautiful and tough. They are:
Commercial Stone Coated Steel Metal Roofing Panels
Stone coated metal roofing has the longevity of steel with the textured appeal of a traditional asphalt roofing shingle and has a 50 year warranty.  These steel panels are made of 26 gauge steel that are coated with A-50 galvalume making them rust proof. The steel panel is then covered perfectly with small stone chips in an acrylic, heat activated bonding agent.  The overall look of stone coated steel panels is undeniably unique and will enhance and protect your commercial storefront, barn, outbuilding or warehouse by adding curb appeal.
These profiles are  available in 5 colors and color blends.
Cottage Shingle – color blends creates a classic shingle look.
Shake – replicates hand-split wood shake.
Shingle – low profile.
Barrel Vault – traditional look of high-barrel Spanish tile.
Tile – medium profile, resembles traditional style of southern Europe.
What are the benefits of a stone coated steel roof?
50 year warranty – transferable.
In some cases can be installed over an asphalt roof, saving on tear-off costs.
Above-Sheathing Ventilation.
The benefits of steel!
What is Above-Sheathing Ventilation?
A unique feature that several profiles have is Above-Sheathing Ventilation.  It allows for an air space between the steel panel and the roof decking which allows for ventilation.  As hot air a rises from inside the building and attic, it creates a natural convection effect. This hot air can get trapped in the roof.  This ventilated system allows this heated air to flow across the roof deck reducing heat gains in the summer. The result is a cooler interior space in the summer that saves on your energy consumption, saving money.
A stone coated steel roof that looks like traditional asphalt may fit the architecture of your church and church parsonage perfectly.  Call A.M. Burney Exteriors, Inc. today and schedule a free estimate for a new metal roof. We install in St. Paul, Minneapolis, and surrounding suburbs like Woodbury, Mendota, Shakopee, Hopkins, Brooklyn Park, New Brighton and White Bear Lake.
Also installing in rural Minnesota and rural Mid-Western Wisconsin. We look forward to hearing from you. Call us today!
Standing Seam Steel Roofs for Commercial Buildings and Warehouse
A standing seam metal roofing system is a durable option available for any commercial building or warehouse. It is widely used because of its low to no maintenance and strength.  A standing seam steel roof is a wise investment because when installed correctly, it lasts twice as long or longer than an asphalt roof. The modern styles come in a wide variety of colors to enhance your building and protect it from the extreme Midwest weather differences.
What are the Benefits unique to a Standing Seam Roof?
Warranties up to 50 Years.
Available in several gauges of steel: depending on your need and application.
Solar reflectivity – saves energy dollars.
High performance; fade resistant paints.
Custom lengths – we manufacture our own for a perfect, seamless installation every time.  This also saves our clients time and money.
Snow slides off – we use snow guards to protect high traffic areas.
Complete flashing and accessories.
Two fastening systems; exposed fastener and hidden fastener; Use of each depends on if the structure is heated or not.
Commercial Enhanced Steel Roofing Panels
This product offers the durable, storm-resistance of steel in a wide selection of styles and colors. If you want the classic look of a slate or shake roof, with the benefits of interlocking steel panels, you can get both with enhanced steel roofing. The colors are multi-dimensional and designed to last even in harsh Minnesota or Wisconsin weather conditions.
Unique Edco Arrowline permanent steel roofing shingles features:
50 Year Transferable Non Pro-Rated Lifetime Warranty.
30 Year Fade/Chalk Warranty.
A total accessory package that includes a vented ridge system.
*Wind resistant – Four way interlocking system tested to withstands winds to 160MPH
Snow slides off – we install snow guards in high traffic areas for safety.
10 of 12 colors are Energy Star® rated – which reduces energy costs.
A.M. Burney Exteriors, Inc. installs commercial steel roofs on commercial buildings or commercial outbuildings in the Twin Cities Metro area and the surrounding cities like: Richfield, Minnetonka, Maple Grove, Blaine, Little Canada, Apple Valley and Bloomington.  Call today for a free estimate.
Experiencing hot or cold areas; or ice dams?
Let us know if you are having trouble with any of the following;
keeping your building cool in the summer, warm in the winter;
if there are cold areas in the building in the winter, hot in the summer;
if you are experiencing ice dams.
We can address these issues by inspecting the current insulation and ventilation.  There are products available to you that may foot the bill.  So much so that you will see and feel a difference in your pocket book and in comfort. The best time to correct issues with hot or cold areas; issues with ice dams of your commercial buildings is when you are doing a roof replacement.
A note on installation and its importance.
On installation: every roof is different.  To help ensure a custom fit, we make our panels either at a local shop or for large jobs – we bring our equipment to the job site.  Ultimately, this flexibility will save our clients' money on installation because they will not have to pay shipping costs of panels made at an out of state factory location.  It is also saves time.
Keep your commercial building or warehouse protected with a commercial standing seam metal roof that will last for decades. Call A.M. Burney Exteriors, Inc. today and schedule a consultation and free estimate.  We install in St. Cloud, Edina, Minnetonka, Eden Prairie, Excelsior, Blaine, Stillwater, Burnsville and the Twin City Metro area. We look forward to hearing from you.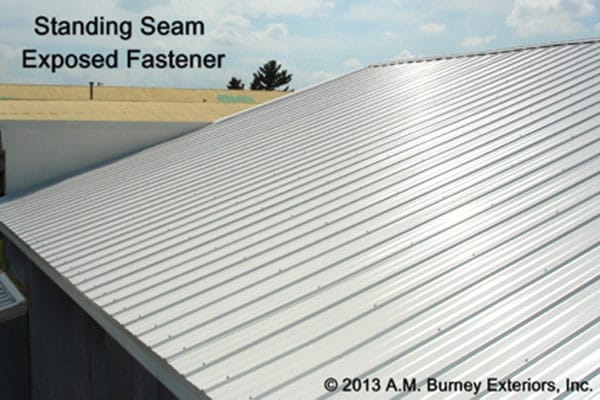 Why should I put a metal roof on my commercial building?
Because metal roofs are strong and are incomparable to asphalt shingles when it comes to features and return-on-investment. The benefits of a metal roofing shingle:
Performance in extreme weather conditions.
50 Year Warranties.
Class 4 Hail Resistant.
Fire Resistant.
High wind resistance.
Energy Efficient – solar reflectivity.
May qualify for reductions in insurance.
Little or no maintenance, dirt and stain resistant.
Compared to asphalt or slate shingles; extremely lightweight.
Pest Proof.
Come with complete standard and customized flashings.
Will not warp, crack, split or peel up.
Mold and mildew resistant.
Meet your needs for aesthetics and durability.
Made in the U.S.A.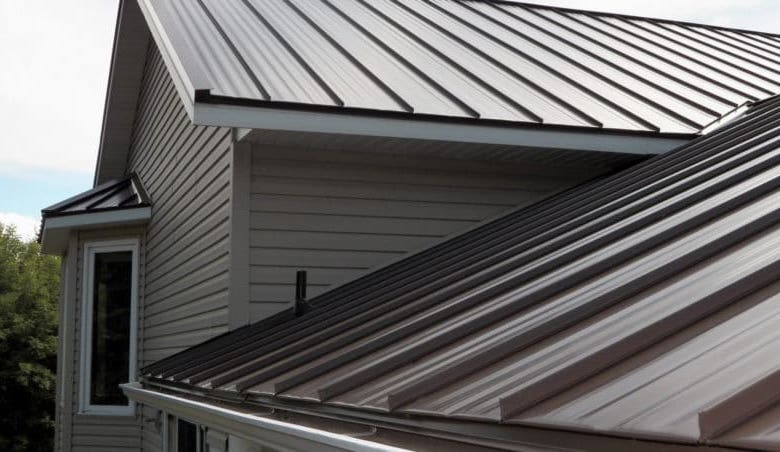 Visit our Blog! There you'll find all kinds of useful information on remodeling projects, tips, tricks, seasonal to-do lists and whatever else may come to mind. See you there! Go to Blog

Thank you for stopping by. How may we help you today?