Stone Veneer Exterior Facades
– Accessorize Your Home.
How about the classic craftsmanship and ageless beauty of stone masonry but without the labor cost?  Exterior stone veneers add the authentic look of stone or brick while saving dollars on your project. 
They are two foot panels that are made of a light weight cement, water, basic aggregate, and mineral-oxide pigments. They mimic the look of natural stone with an even, consistent color base and texture. Installed using screws, not mortar, the interlocking panels have a tongue and groove system which provides for a seamless application and look.  Built in rain screens and pre-drilled weep holes make sure water drains properly.
Stone Veneer Panels have some excellent qualities too:
Class A Fire Rating.
110 MPH Wind Resistance.
50 year Limited Transferable Warranty.
Tested and Approved to build code.
Withstands thaws and freezes, normal winds and heat.
NAHB Green approved product.
Curb Appeal.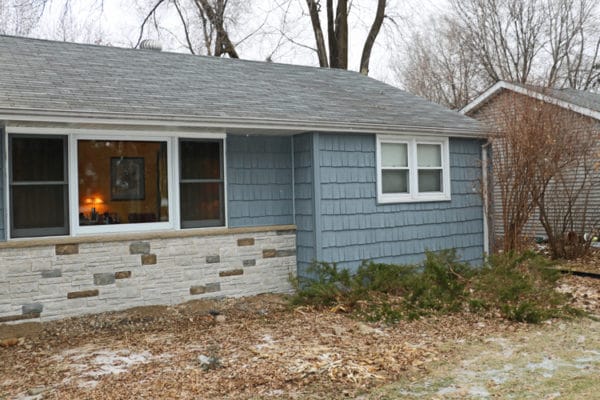 Oh my goodness, just look at these gorgeous profiles to choose from:
•    • Ledgestone: similar to dry stack or sandstone.  Have a well worn look with rugged textures.
•    • Tight-Cut: Traditional look of quarried limestone, reminiscent of 19th rural American Architecture.
•    • Carved block mimics split face stone, featuring large rectangular stones with a chiseled texture.
Considering that they come in a variety of color spectrums, we are sure to find one to fit your preference.
So when you are looking to add a "WOW" factor to your exterior remodeling project, a stone veneer exterior façade will foot the bill.  If you have pillars on the front of your home, we could warp the veneer stone panels around them either a third of the way up or the entire length for a stunning accent.
Consider the use of stone veneer panels with your new siding project.  There are endless possibilities. A.M. Burney Exteriors, Inc. is now accepting in-home consultations for veneer stone panel and siding installations.  We bring our store to your home in the form of many samples to choose from. Then, we answer you questions, help you with design, make comparisons, and provide you with an estimate.  We install vinyl siding in the Twin Cities Metro area and surrounding suburbs. Including: Cottage Grove, Inver Grove Heights, Richfield, Orono, Wayzata, Champlain, Spring Lake Park and Lake to name a few.  Call today and let's get started.
Visit our Blog! There you'll find all kinds of useful information on remodeling projects, tips, tricks, seasonal to-do lists and whatever else may come to mind. See you there! Go to Blog

Thank you for stopping by. How may we help you today?