Vented Nail Base Panels
If you are having issues with ice dams, trouble keeping the upper floors of you home cool or warm or all three, this system can help reduce this problem up to 80%. It can save you money on the destruction of ice dams, heating and cooling costs and overall comfort of your home.
Vented nail base panels are panels that consist of a wood panel and rigid foam insulation with an air gap between the panel and the rigid foam insulation.  The panels attached directly to your existing roof decking under the roof shingle. It is like re-decking your roof, but with more benefits.
Vented nail base panels work by allowing air to move freely across the deck of your roof.  They address the need for more air circulation and insulation. 
In the winter, ice dams can form from lack of air circulation and/or lack of insulation.  However, once vented nail base panels are installed, your home will no longer lose heat that has been trapped under your roof deck that allows snow to melt and re-freeze resulting in the dreaded ice dam.
The benefit for summer months is that the cool air from inside your home cannot bleed through your deck boards. Vented nail base panels block the cool air from escaping out your roof saving you on cooling bills. The result is a cooler, more comfortable living space.
So what is the next step?  Call us, set up a free review of your home's ventilation, insulation, and roof.  Invite us to come to your home to inspect and assess your current conditions. We bring samples of the product along and give a thorough explanation of the process. Then we make recommendations and give you options for your unique situation.
If you have ice dams in the winter and/or hot spots in the summer, you are sending money out the roof of you home.  It is an investment now that will pay off in comfort and lower energy bills. Call A. M. Burney Exteriors, Inc., today and start saving today.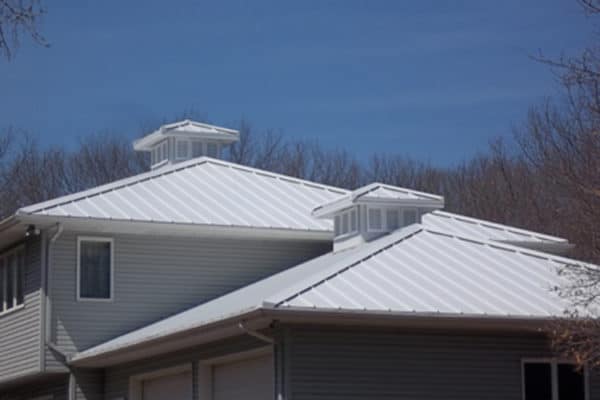 We've passed the first test of winter – after a couple of minus 20 below there are no icicles anywhere and no signs of ice dams forming.  That is a huge relief. We're very pleased with the entire process from meeting with Alan through the final clean-up. All aspects were handled professionally.  When Alan told us something was going to happen, it did. We're very happy we chose to work with Alan and his contractors. If we were to choose to do further house work, we'd not hesitate to call Alan.  His service was excellent.
Alan has a wonderful product (vented nail base panels: some call S.I.P. Panels) that improves heat loss and cooling loss.  We can tell the difference already. His teams of workers are fantastic. They work incredibly hard and clean up was very meticulous!  When we forgot to remove our landscape lights (electrical not soar) some were broken. Alan called and informed us right away and apologized sincerely.  Alan reimbursed us for our loss. No worries there. Great Company and Great Product!!

P.S.  Alan also had to do a large correction to our overhang, sagging rafter tails.  Great Job!
Visit our Blog! There you'll find all kinds of useful information on remodeling projects, tips, tricks, seasonal to-do lists and whatever else may come to mind. See you there! Go to Blog

Thank you for stopping by. How may we help you today?