Engineered Wood known as LP

®

Smartside

®



Long Lasting Beauty.  Stately. Magnificent Look
Remodeling the exterior of you home is not just a project, it is a journey.  We think this is a truly unique product for those that want the traditional look of cedar wood siding but with many many benefits and options that you can mix and match for a beautiful custom look.  We are talking about LP® Smartside®

LP® Smartside® Qualities
Nature – no fear.

Stays put even in high winds.

Rot resistant to moisture and humidity, tested since 1996 and testing 

continues.

Resist cracking and warping from sun and heat exposure.

Resists damage through freeze-thaw cycles.

Extreme testing and defies termite damage.

5/50 Year Limited Warranty that is tough to beat. 

Outstanding paint warranties.

Made in the U.S.A.
If you want the look of wood look no further. LP® Smartside® is realistic looking in its deep cedar-grain texture.  If you are looking for a smooth or stucco finish, they got it. Offer a wide variety of lap panels (4", 6" and the like) with lengths up to 16 feet which helps reduce seams. To provide unlimited design options there are also panel and vertical siding, shakes, trim and fascia.
LP® Smartside® can withstand impact from flying debris and everyday bumps and mishaps.  This kind of toughness endures where other siding materials fail.
How is it of LP

®

Smartside

®

made? What makes it so tough?
Each panel is created from a renewable resource, wood.  Wood that is grown and gathered under the strictest Sustainable Forestry Initiative® standards. 100% of the log is used.  All binding agents and resins are low emitting. No added formaldehyde.
The secret sauce – SmartGuard® a patented formula that is key to the LP®Smartside® product line. The wood is shredded and treated with specifically engineered combination of zinc borate, waxes and resins that are heat pressed. This process creates a product that that withstands high humidity, extreme temperatures and freeze/thaw patterns.  It resists fungal decay and termites. It is tough – a 50 year Limited Warranty.
We have toured the LP® Smartside® plant in Two Harbors, Minnesota and seen the manufacture ring process first hand. It was quite impressive.
Do I have to paint LP

®

Smartside

®

?
No.  It is available primed and in a beautiful assortment of pre-finished choices applied at the factory.  However, you do have two additional options. You can choose to have it painted once it is installed. Or, have it painted at the factory in the color of your choice for a nominal fee.  The advantage to pre-painting siding panels at the factory is that the finish is heat-cured to the panel which enhances paint adhesion and durability along with uniform, consistent paint coverage. There are even two-tone finishes to choose from.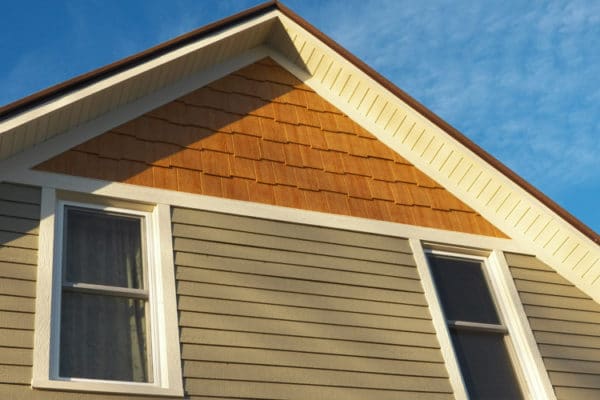 I met Alan and Margaret at the Back to the 50's show and set up a meeting at our home.  While talking about our siding and window project I started feeling comfortable that I may have found the right contractor when Alan assured me that he probably had the best siders in the city.  We desperately needed a new, more updated look for our early 70's style home. Alan helped us with that and when the siding installer came to start he had some great suggestions as well. The project turned out WONDERFUL!  My wife and I were very happy with every aspect of the job: communication, cost, final clean-up, and most of all – craftsmanship! Alan was right. He DOES have the vest siding and window installer in the city. I would highly recommend A. M. Burney Exteriors, Inc. for your home project.
Alan, I just want to thank you for all the extra help you did while you were here to help me.  God Bless you and your family.
So what about storm damage? Can LP

®

Smartside

®

withstand hail?
LP®Smartside® is has a Class 4 Hail Rating.  The best rating a product can get.
What siding and color will look good on my home?
We know that choosing a color can be a daunting task to some.  To bring out your homes charm and character here are a few things to consider:
Most homeowners keep the same color on their home for 15 plus years.

The period and style of your home – architecture.

Your personal preferences. What colors do you like?

Consider neighboring homes but avoid blending into the sameness.

Geography and light.

Existing design elements, stone, brick, etc. what will look good with them?
But no worries.  At A. M. Burney Exteriors, Inc,. we are here to help you in your product selection.  With our design and color expertise we can even help you with color, textures and the like.  
Call us today – we are ready to set up a consultation that fits your schedule.  We will bring samples and give you the information you need, along with an estimate so that you can make an informed decision on your siding choices. 
A.M. Burney Exteriors, Inc. installs LP®Smartside® in the Twin Cities and surrounding suburbs.  We are ready to meet with you and show you the beauty and benefits and of engineered wood siding.  We serve the Twin Cities metro area and surrounding suburbs including Zimmerman, Victoria, Plymouth, Burnsville, Woodbury and Forest Lake to name a few.  Take the next step and call today
Visit our Blog! There you'll find all kinds of useful information on remodeling projects, tips, tricks, seasonal to-do lists and whatever else may come to mind. See you there! Go to Blog

Thank you for stopping by. How may we help you today?