Standing Seam Steel Roofs. Timeless.
An Excellent Choice!
A roof is important to the protection of your family, your belongings and the cost of cooling and heating and resale value of your home. So why not hire the very best and install the very best?
The traditional metal roofing that many folks think of is that with the long, ribbed panels which is referred to in the industry as "standing seam".  Panels of steel are connected vertically with either an exposed fastener system or a hidden fastener, interlocking system that secure the panel to the roof decking.  This hidden fastener interlocking roofing system is resilient, durable, time tested and comes in a wide variety of colors that are sure to enhance you home, barn, outbuilding or commercial structure. A wide variety of colors have been engineered to withstand the elements with superior color retention.
Standing seam roofs feature clean lines that add timeless architectural detailing and accents to your home, lake home or family cabin.  If you desire a clean, sleek, contemporary look, standing seamless will foot the bill. Perhaps you want a classic, traditional look with years of no or little maintenance. A metal roof is an excellent choice.  
Asphalt and other roofing products are made from tar, petroleum products and compressed paper fiber. Cedar shakes are made of wood.  Both are in a constant state of deterioration, over time they look bad and structurally break down. They will need to be replaced. The value of a metal roof has little maintenance and no replacement cost.  Your return on investment (ROI) will pay off. We invite you to have us over to show you the numbers on how this is true.
The Power of Steel!
Standing seam steel roofs are extremely resistant to high winds, storm and hail damage. They shed rain, water and snow, perfect for homes here in Minnesota and Wisconsin.  They provide you with confidence and peace-of-mind, knowing you are covered and protected.
Steel, unlike asphalt, reflects the sun's rays.  A steel roof stays cooler and reduces the amount of heat transferred into you home.  A reduction in heat transfer can significantly lower your cooling energy costs.
While metal reflects solar rays, asphalt soaks it in, which also aids in its decomposition process.  If mold and fungus are a concern, metal is an excellent choice.  
Steel is a lightweight material when compared to asphalt or stone tiles.
Coatings such as galvalume are applied to provide rusting corrosion resistance. Today's paint systems that are applied also protect against rust.
The paint processes of today and the application of them to the steel panel provide premium warranties on color retention and against fade and chalking.
There are several varieties of standing seam roofs with various gauges of steel.  Some of these we do not recommend for homes, but for unheated barns, storage and outbuilding they are a good choice.  The lower the gauge of the steel panel, the stronger it is.
A steel roof is a positive impact on our environment because to put it simply, a metal roof will last for a longer period compared to other types of roofing materials.  Meaning less debris in our landfills which is where asphalt roofs end up. Steel is 100% recyclable at the end of its long and useful life.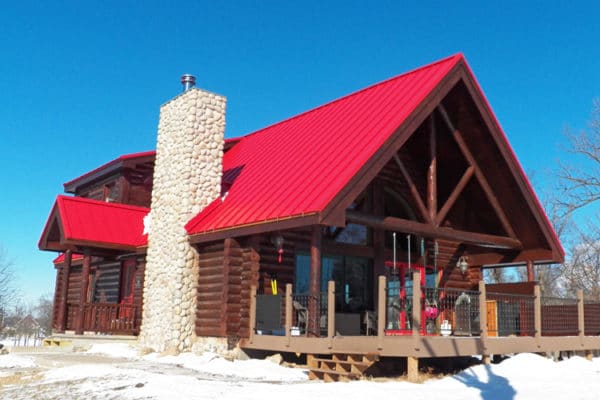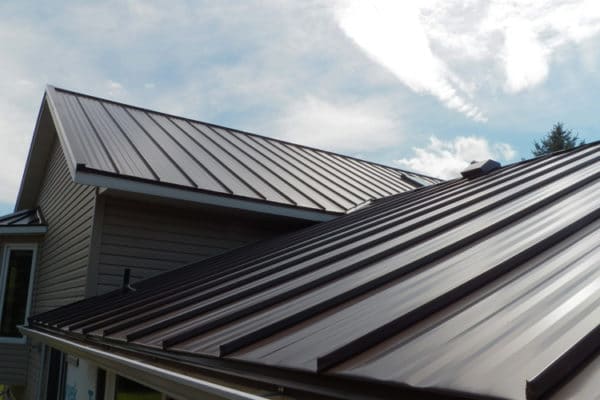 I've already recommended you (A.M. Burney Exteriors, Inc.) to my brother who is saving the funds for a new roof.  I am very happy with our roof. I feel secure in the belief that this roof should last us the length or our tenure in this house, 35-40 years.  Thank you for working with us. You fit our budget for the best products available on the market today.
Your installer was very professional.  Introducing himself and answering questions and giving us information as we needed.  He was friendly calling us by our names.
I am THRILLED with our new roof.  It's exactly what I was hoping for.  The team was very professional and took the time to DO IT RIGHT!  I would hire A.M. Burney Exteriors, Inc again in a heartbeat and highly recommend them for a standing seam roof.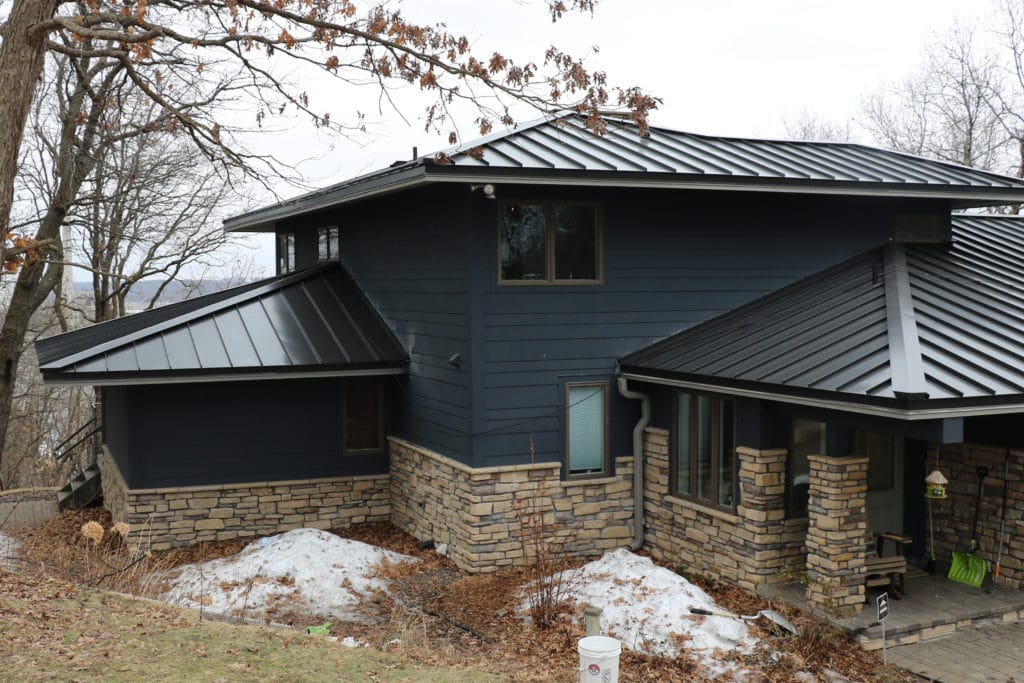 What are the Benefits of a Standing Seamless Roof?
Excellent Warranties –up to 50 Years.
Class 4 Hail Impact Rating.
Class A Fire Resistance Rating.
High Wind resistance.
Solar reflectivity
High performance, fade resistant paints.
Custom lengths – we manufacture our own for perfect installation every time.
Dirt and stain resistant.
Easy to clean if necessary.
Pest proof.
Complete standard and custom flashing and accessories.
Concealed fastener systems provide superior adhesion and leak protection.
Installation of a Standing Seam Roof
All metal roofs and metal roof installers are not equal.  This is where we at A. M. Burney Exteriors, Inc. can help you.  For example, many folks do not know that a metal roof used in an agricultural application may not be a good choice to be used on your home.
A word of caution on installation.  We recommend you make sure your installer has the product knowledge and installation experience before you hire them.  A metal roof should be lifetime protection for your home. There are many nuances to installing this roof that some are not experienced with. Don't let an inexperienced installer practice on your home. You are paying good money for a metal roof.  We know that. We are committed to the industry and pride ourselves on doing things right.  
Exposed Fastener Systems 
When you are looking at a standing seam roof, if you see screws sticking up through the roof, this is an exposed fastener system.  This system works great for unheated structures like barns, storage and outbuildings. But it's not recommended for heated structures because heat will contract and expand steel. Over time these fasteners may shift and cause leaks.  Also, manufacturers recommend you go on the roof and tighten each fastener after a few years.
Hidden Fastener Systems
When you look at a standing seamless metal roof and do not see screws this is a hidden fastener system.  With this system the metal panels interlock over each other completely covering the fastener or screw. If heat contracts and expands the panels, and the fasteners shift, they are encapsulated.  There is no worry of potential leaks as the fasteners are protected from the elements. It is a weather-tight unit, no screws are exposed. We recommend this system for residential homes, churches, and commercial buildings that are heated.
These examples of different types of fastening systems for standing seam steel roofs have different applications.   Knowing the correct application for your home is very important. 
At. A.M. Burney Exteriors, Inc., we, with our technicians and installers, have over 20 years of  knowledge on best installation applications and practices for your residence, barn or commercial building. 
A word on Snow Guards.
We recommend that snow guards are installed especially over walk ways, decks and garages.  Snow guards protect you from the snow sliding off in high traffic areas around your home and on to you. Very important.
They come in a variety styles and we can show you the benefits of each and  recommend which will best fit your application.
What is "oilcanning?"
Oilcanning is a phenomenon where flat, smooth standing seam panels can show ripples on a roof.  It can occur from a variety of reasons: installing over existing shingles, stress in the metal itself, damage to panels pre-installation, dips, swales or rolls in roof surface, improper roll forming of the panels, contraction and expansion on metal panel.
Although oilcanning is not a reason to reject this type of panel – and it usually happens on a flat, smooth finish panel, you should be aware that it can happen. A way to avoid oil-canning is to choose a panel with minor striations or choice a stone coated or enhanced steel product.
Does my city allow for a standing seam roof?
When selecting your new metal roof we recommend you consider your neighborhood, home associations and local ordinances.  We recommend that you check with them to make sure that your community allows for a standing seam installation as some may not.  If they do not, no worries, as perhaps a stone coated steel shingle may foot the bill.
And finally, if you are concerned about color and design, at A. M. Burney Exteriors, Inc. with our design and color training and experience, we will help you choose a product that will complement the beauty of your home.
So, ready to take the next step? Contact A.M. Burney Exteriors, Inc. today.  We are ready to meet with you and show you all the wonderful benefits of a metal roof.  We serve the Twin Cities metro area and surrounding suburbs from Cambridge to Stillwater and Marine on the St. Croix,  to Delano, Young America, Prior Lake and Hastings and White Bear Lake to name a few.
Standing Seam Metal Roof Gallery
Visit our Blog! There you'll find all kinds of useful information on remodeling projects, tips, tricks, seasonal to-do lists and whatever else may come to mind. See you there! Go to Blog

Thank you for stopping by. How may we help you today?