Traditional Asphalt Roofs.
A Great, Affordable Choice!
We started A.M. Burney Exteriors, Inc. installing traditional asphalt shingle roofs. Asphalt roofing is still a great choice to fit many budgets and aesthetic preferences.  In fact, more buildings have asphalt roofing in the United States than any other material. It is a durable and affordable option in protecting your residential home, cabin, church, or place of business
Installation is key.  Asphalt shingles must be installed correctly and at a certain outside temperature.  Our team has decades of combined experience in the trades using only the best installation techniques and practices. We provide quality products, competitive rates, excellent workmanship, and service.  
Available to us our virtually every asphalt shingle brand including:
Owens Corning

Tamko

IKO

Malarky

Certainteed
We are an official Owens Corning™  Preferred Installer.

It is one of our favorite asphalt shingle productsbecause the Owens Corning™ Duration shingle has a patented Surenail ® Technology. These shingles are specially formulated to provide greater contrast and dimension to any roof. We have visited their plant and have seen first hand how these folks take the production of their shingles seriously.
Colors range from subtle and natural hues to vibrant eye-catching blends, elegant designs which will bring plenty of curb appeal and long lasting protection to your home.  Featuring: 
A Limited Lifetime Warranty.

130 MPH Wind Resistance Limited Warranty.

Algae Resistance Limited warranty.

Patented Surenail ® Technology.
What is Surenail
®

Technology?  Why is it important to an asphalt shingle?
Surenail® Technology is a breakthrough design of woven engineered reinforcing fabric at the top of the shingle that helps deliver consistent fastening during installation.  It is important because it provides not only a guide for installers who are handling the nail gun, but it provides reinforcement where the nail adheres to the deck, giving it strength. It is a special nailing strip that provides superior adhesion and helps the shingles laminate together to deliver 130 MPH wind warranty performance with only 4 nails.  Fewer nails mean fewer deck penetrations; less likely to leak.
Owens Corning has been a recognized industry leader for 75 years, and is America's #1 roofing brand.   As an Owens Corning™ Roofing Preferred Contractor we are part of an exclusive network of roofing professionals.  We meet their high standards and strict requirements for good business practices, reliability, extensive knowledge and professionalism.
A new roof is a sizable investment and we want you to have peace of mind in choosing A.M. Burney Exteriors, Inc. as your general contractor.  Now installing asphalt roofs in Eden Prairie, Minnetonka St. Michael, Spring Lake Park, White Bear Lake, West St. Paul and Savage. All the Twin City metro area suburbs and parts of Midwestern Wisconsin.
Call us today at 763-229-6756 for a free, no-nonsense estimate.  We will bring our asphalt roof samples to your home for your review.  We look forward to hearing from you.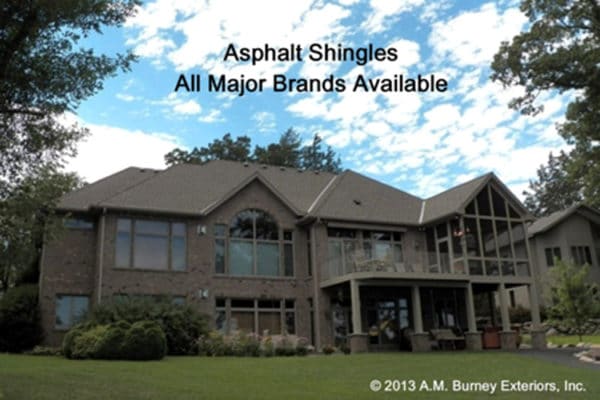 They (our installation crew) trimmed branches on trees which was great and also completed the job in one day.  Was VERY happy with the company and the people that work with you.
Thank you so much for the amazing service.  You were always available to answer questions.  We appreciate the professionalism, yet the personal service.  Our new roof looks great! Thanks again!

P.S. Thank you for getting our project on your schedule so fast.  We will now have a stress-free winter thanks to you and our new roof (smiley face).
My re-roof and new gutters experience with A. M. Burney Exteriors, Inc. has been tremendous.  From start to finish, Alan has been patient, knowledgeable, sincere and professional, (storm damage/insurance).  Alan and Margaret are great, down to earth people. I will use A.M. Burney Exteriors, Inc in the future and highly recommend them to others.
Visit our Blog! There you'll find all kinds of useful information on remodeling projects, tips, tricks, seasonal to-do lists and whatever else may come to mind. See you there! Go to Blog

Thank you for stopping by. How may we help you today?