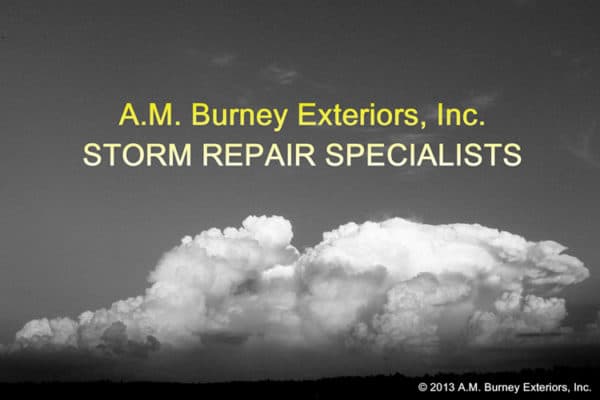 I have Storm Damage!
I have Hail Damage and Wind Damage!
At A. M. Burney Exteriors, Inc., like many of the Minnesota state agencies, we recommend you take your time when choosing a general contractor to fix your roof, siding, windows, when you have exterior storm damage. We are a local company that is licensed in the state of Minnesota and Wisconsin. We have proper business insurance and are experienced with installation of asphalt roofs, metal roofs, siding, and windows.  We understand you want the damage fixed but you want it fixed right. 
With over 10 years of experience, we are well versed in the exterior remodeling industry, and knowledgeable in product selections.
If you have a damaged asphalt roof, this may be a great time to consider upgrading to a metal roof.  Metal roofs come with a Class 4 Hail Rating and high wind ratings. Should another storm hit your home again, you are covered with the best product. For more info on metal roofs click here.
At A.M. Burney Exteriors, Inc., we base our reputation on the long term.
We want you, your family, and friends as long term clients.  We have a proven track record of going the distance. We stake our reputation on it. And we will be available to you, long after "the storm."  
So let's talk a moment about insurance claims and property damage.
Natural disasters, wind storms, hail storms and fires are the most common causes of property damage.  But what many do not know, these unexpected events can lead to structural damage if not mitigated properly. In this event, a thorough investigation of damage is key for the restoration of your property.
We have helped many of our clients restore their home, place of business, place of worship, barn, or outbuilding whether they have had storm damage or not.  We know our place in the insurance world and give free consultations and detailed estimates. Then we install products properly to ensure your property is restored beautifully.
Experienced in the Insurance Claim Process
Our team is experienced in the insurance claim process.  We can inspect your property and identify damage. At your invitation, we meet with you and your insurance adjuster if necessary and aid in making sure all the damage is accounted for. We look at the damage and make our assessment and submit to you a written estimate. Your insurance adjuster will do the same.  It is then up to you and your insurance adjuster to compare and crunch the numbers so you can make an informed decision on how you wish to proceed.
What areas of my home are most likely to have storm damage?
Roofing, siding, and gutters are common areas that storms damage.  Both hail and wind can cause serious damage to shingles and siding. Sometimes the amount of damage depends on the age and the type of product and how it was originally installed.
Window damage is less common comparatively but it happens.  We have seen broken windows, broken or shredded screens, and dents to the soft metal of the windows.  It is important to look at your windows too, for some storm chasing representatives, often overlook soft metal damage.
What are the steps to take after you have experienced storm damage?
•    • Call your insurance agent.
•    • If you have structural damage and need emergency repairs, immediately do what is necessary to protect your family and home.
Otherwise:
•    • Have an adjuster out to inspect the damage to your home. They will provide you with documentation and an estimate.
•    • Call A. M. Burney Exteriors, Inc., to inspect and document damage. We will also provide you with an estimate based on our inspection.
•    • Compare both estimates.
•    • Once the damage has been assessed and  you are in agreement with both estimates, we write a contract with a scope of  work.
•    • The process of installation begins.
What are "storm chasers"?
When a storm hits your neighborhood, it will likely be overrun with "storm chasers" that come from out of state.  They usually come in quickly and are ready to perform and install and then quickly leaving the state to find the next storm damaged area, following the money trail. 
Perhaps you have experienced the storm chaser phenomenon. Many of our clients have come to us saying they never want to deal with the storm chasing process again and wish to choose a more durable product. Even though they may come "out-of-pocket"  for an upgrade, i.e. a metal roof or steel siding, it is a perfect time to upgrade your roof and/or siding which adds value and better protection for your home and family.
A.M Burney Exteriors, Inc., is a local company that is licensed in the state of Minnesota and Wisconsin. We have proper business insurance and are experienced and skilled with installation of asphalt roofs, metal roofs, siding and windows.  
Give us a call today for a no-cost storm damage estimate. We proudly serve the Twin Cities Metro and surrounding suburbs like Burnsville, Stillwater, Lino Lakes, Rogers, Plymouth and Minnetonka just to name a few.  Check out our complete list of cities is on our home page.  
Visit our Blog! There you'll find all kinds of useful information on remodeling projects, tips, tricks, seasonal to-do lists and whatever else may come to mind. See you there! Go to Blog

Thank you for stopping by. How may we help you today?